The Stingray is actually a fish, closely related to the shark family. Stingray skin has a unique beauty highlighted by the shiny pebbly texture of the skin, along with a one-of-a-kind design feature, the bony remnant of the dorsal fin that resembles a tiny cluster of "pearls". Stingray skin is used to make exotic shoes, boots, belts, wallets, jackets, and iPhone cases.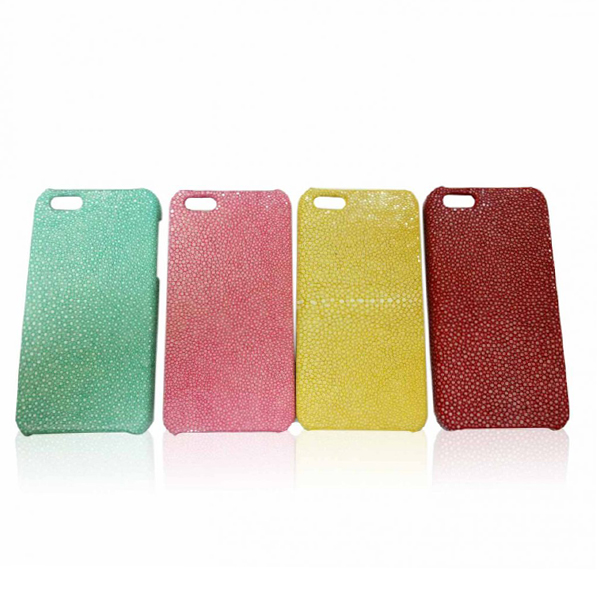 Of all exotic leathers, Stingray is often the most underrated. It is highly durable, is resistant to water, fire, puncture, tearing, and abrasion, yet has a unique supple texture. Special chemicals and oils are used to produce a very soft leather, actually some of the softest, and to ensure the whitest diamond shaped eye/crowns, and the most vibrant colors. It can be textured to be bumpy or flat. Stingray skin makes an excellent leather iPhone case, one of the most popular in Bangkok Bootery's selection of iPhone cases.
There are two types of Stingray skin used to make anti-scratch leather iPhone cases for a luxurious feel and premium protection:
Shiny Pearly
Polished Skin.
Bangkok Bootery stocks both of these two types of genuine Stingray leather cases. You may choose either a Stingray leather iPhone 7 case, a Stingray skin iPhone 8 case, or a Stingray skin iPhone X case. Each is of the highest quality, fashioned by our highly skilled craftsmen to enhance the look and luxury feel of your iPhone.
Browse our gallery to find which Stingray skin best suits your iPhone and use our handy chart to select the color. Delivery of stock items can be made worldwide within 8 working days; or, if you would prefer a custom-made Stingray leather iPhone case, we can handcraft and deliver it to you to arrive within 21 business days. You can be assured that your Stingray leather iPhone case from Bangkok Bootery is genuine.
Please contact us at Bangkok Bootery if you are interested in buying our luxury Stingray leather cases for iPhone either on a retail or wholesale basis.  Or, call us today on +6681-333-6645 (Whats App)