Using exotic leathers for accessories is a great way to make a stand-out product. Having water-resistant qualities makes leather great for a variety of applications. We select every skin carefully to handcraft leather accessories.
Handmade leather accessories are good addition to your appearance and will improve how you look. A crocodile leather wallet or cardholder helps you to look chic and dapper. Buying exotic leather accessories is an excellent investment as leather products are long lasting.
These days, brand of your mobile phone is very important in society, and by extension, the case that choose for your mobile phone. Bangkok Bootery craft iphone leather cases that are both luxurious and functional. You can keep your iPhone safe and protected in style, also Exotic Leather iphone case could be a nice gift for your beloved one.


What a luxury Exotic leather purse for women can do for you is ensuring that you always looks your best and beautiful.
Another advantage that handmade leather purse has is that Exotic skin purse is designed and made to last for life time, it may be expensive to purchase, but crocodile, python, ostrich skin purses have had hours of workmanship put into it.
Buy online Exotic skin wallets from Bangkok Bootery which are excellent for any event or daily use.
Handmade leather wallets hold your cash and cards and the most remarkable thing about Exotic skin wallet is its natural pattern, you would love it.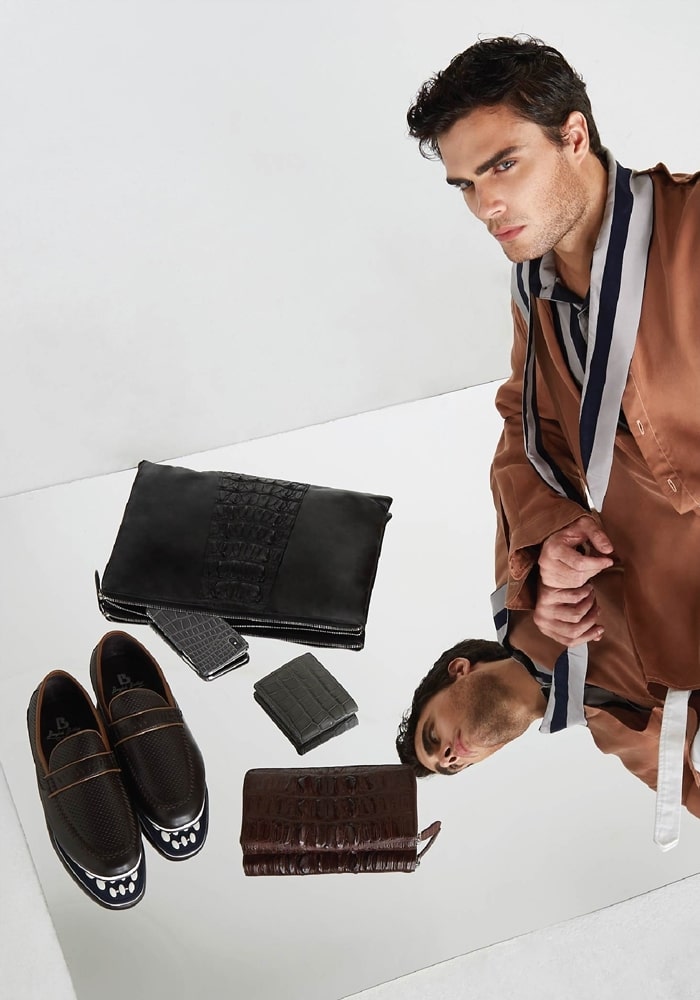 Bangkok Bootery name is well-known in exotic skin accessories in Thailand market and also all over the world with help of Exotic leather accessories online shop and international shipping services.
Bangkok Bootery is in the exotic skin business since 1937, As seen on Thai TV and multiple Thai celebrities our exotic skin products are the best fashion.
We manufacturer Exotic skin accessories for men and women made with premium genuine Exotic leather.
Genuine Exotic skins can be made into leather fashion accessories such as iPhone case, purse, wallet, cardholder, watch band, bracelet, key chain, or other small items.
Crocodile skin makes the highest luxury leather accessories, luxurious and popular as a mark of prestige. Python skin is also popular choice of material to use in variety of fashion accessories. Python skin and lizard skin accessories are the most affordable type of Exotic skin accessories.
Ostrich skin accessories are durable and attractive fashion leather accessories for those who want some luxury for their fashion look.
Alligator skin makes an excellent men's leather accessories and women's leather accessories.
Shop a wide selection of Exotic skin accessories made by our high skilled craftsmen; Crocodile leather iPhone case, wallets, cardholder, women's purse perfect women's Python skin purse, unique ostrich leather wallets, cardholder, purse made from ostrich leg skin or belly skin, also stingray skin bracelet.
We allow custom alteration on the handmade accessories, order your handmade leather accessories online, you choose your leather, your favorite color, and details in wide variety of sizes, we will handcraft the leather accessories so that the final product is exactly what your fashion and style demands and will deliver the handmade accessories to you worldwide, prior to shipping the Exotic leather accessories to your given address, we need 12 business days to handcraft your custom order. Please note that all the orders arrive in 5 days for stock items and 12 days for custom orders in large production, and sometimes delivery times will be extended due to CITES certification.
To order leather accessories online Email or contact us, you can also visit our stores throughout Thailand.
Thank you for stopping by!
Where to buy exotic leather accessories?