Crocodile Skin Shoes For Men
Looking for something a little bit different to spice up your shoe collection? Look no further than our selection of exotic Crocodile Skin Shoes For Men.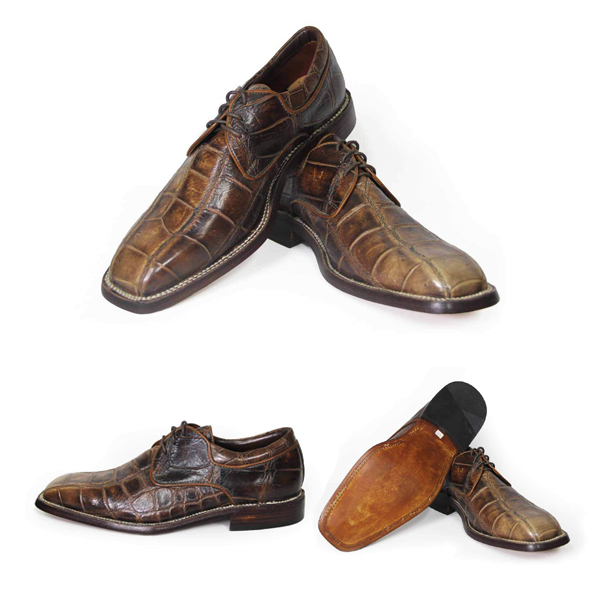 Fashioned from genuine crocodile skin by our highly skilled Bangkok Bootery craftsman, these luxury shoes can be worn in a variety of ways. From dress shoes, casual loafers and sandals, to full-on cowboy boots, crocodile skin footwear is guaranteed to turn heads. You can even order a pair of crocodile skin golf shoes for you to stand out from the rest on the golf course!
Crocodile skin is supple yet extremely durable and exceptionally tough, with each hide having its own unique scale pattern.  With the proper care, your crocodile skin shoes will last a life time. All of our exotic crocodile skin shoes for men are handmade from the finest top-quality genuine leather uppers, linings, and soles. Each pair cannot be duplicated so you can be sure they are one of a kind.
Moreover, you can order custom alterations on your handmade crocodile skin shoes. Just choose your crocodile skin type, your favorite color using our handy color chart, your sole type, and your required finishing details. You can measure your feet size at home with our size reference guide. We will provide you with a quotation and, on acceptance, will handcraft your shoes and deliver them to your given address in around 10 business days. We can provide both a Warranty and a CITES certificate so that you can avoid any customs questions.
If you would like more information about our crocodile skin shoes for men, give us a call today on tel./WhatsApp:+6681-333-6645, email us, drop into one of our Bangkok Bootery stores, or just go to the Bangkok Bootery online shop.