Crocodile Skin Belt For Men
You have your favorite ensemble, maybe a classic charcoal suit, white cotton shirt, and your most comfortable black dress shoes. Or a worsted blazer with stylish chino trousers, or designer jeans. For the perfect finishing touch?  A crocodile skin belt from Bangkok Bootery's collection for men.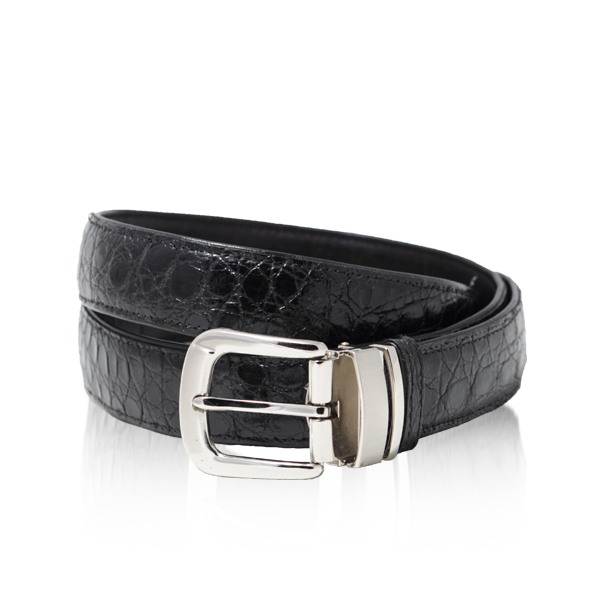 Check out our gallery exotic skin belt and you will see that we stock a very wide range of styles and colors of shiny crocodile skin belts for men – black, brown, green, blue, red, or grey. Since each crocodile skin has its own individual scale pattern your crocodile belt will be truly unique. And, whilst being soft and supple, crocodile skin is exceptionally tough, so your belt will last for a lifetime.
Living outside of Thailand or up country? Or simply have no time to go shopping? No problem! Just go to the Bangkok Bootery online shop and choose which color and style of crocodile skin belt best coordinates with your wardrobe. Maybe select several to complement your different outfits or to match your pairs of shoes. Delivery of stock items can be made worldwide within 8 working days; or, if you would prefer a custom-made crocodile skin belt, we can handcraft and deliver it to you to arrive within 15 business days.
We can provide a warranty and a CITES certificate for your new crocodile skin belt to ensure you have no import problems. Just let us have your full contact details and passport number, and allow one more days for delivery.
Please contact our knowledgeable staff at Bangkok Bootery if you would like more information about our genuine crocodile skin belts for men. Give us a call today on tel./WhatsApp:+6681-333-6645, email us, or drop into one of our stores, particularly our Bangkok Bootery Men's Collection in Emporium Bangkok (2nd Floor) Men zone.
Crocodile Skin Belt For Men