Looking for an iPhone X Case that will protect your phone if you drop it, but has extra functionality, making some of the phone's features easier to use? Here at Bangkok Bootery we stock a very wide range of hard wearing python iPhone X Cases in every style, pattern and color you can imagine. You are sure to find one that meets your requirements.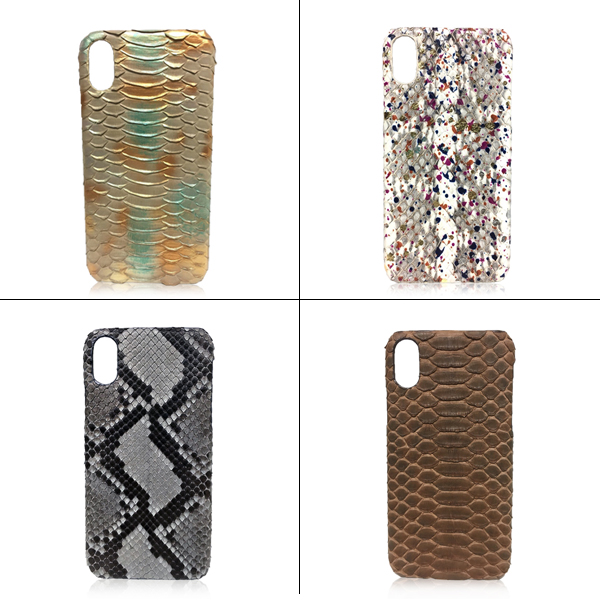 A genuine python snakeskin iPhone X Case is a product of considerable distinction. Python skin is probably the most sophisticated and exquisite of all the exotic leathers, known for its color variations and for its suppleness. It is ideal for the manufacture of many luxury accessories like iPhone X cases. It feels great in-hand, is hard-wearing and is easy to grip.
No two iPhone X Cases, created from the belly part of the snake, distinguished by its unique and colorful raised scales, are exactly alike.
With proper care python skin accessories can last for ages. You should clean your python leather iPhone X Case regularly with a dry cloth. Python skin items with scales should not be cleaned with chemical products, a very light dusting in the direction of the scales is sufficient. Keep your python iPhone X Case in a cool place when not in use.
Browse our online shop to find which style, type and color of python skin iPhone X Case you like best. Delivery of stock items can be made worldwide within 7 working days.
If you need extra functionality, whether that's being compatible with Apple Pay, Face ID, and AirPower (wireless charging), with a design that complements Apple's latest innovations, have a python skin iPhone X Case custom-made to your own design. Contact us at Bangkok Bootery and we will deliver your handcrafted python skin iPhone X case made-to-order within 12 business days.
If you would like more information about buying a genuine python skin iPhone X case, give us a call today on tel./WhatsApp:+6681-333-6645, email us, or drop into one of our Bangkok Bootery stores.