You have probably already discovered our wide range of real python skin bags in the Bangkok Bootery Gallery.
You will have seen that you can select a designer handbag, a tote, a clutch bag, a satchel, a travel bag, a document bag, or, now, a backpack, all made from genuine python skin, whichever type(s) best suit your lifestyle.
You can choose which finish you like for your python leather bag, and decide what type of pockets, zippers and other configurations you prefer. There is a bunch of colors from which you may pick – for example red, green, brown, white, pink or black – and a wide variety of sizes are available.
But, suppose what you see is not precisely what you are wanting. Can you custom order a Python Leather Bag from Bangkok Bootery? The answer is – yes, of course! You can come up with your own particular design and style, so that your customized python leather bag from Bangkok Bootery is truly unique!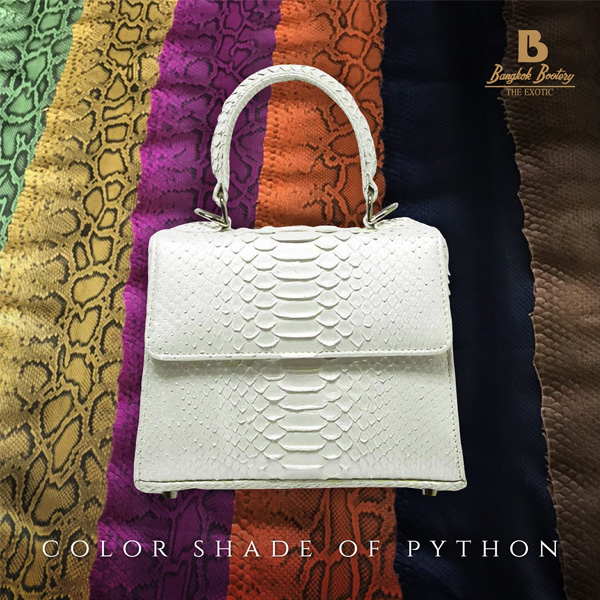 Email us with your exact personal requirements and we will provide you with a quotation by return. On acceptance, Bangkok Bootery's skilled craftsman will then hand-fashion your custom order python skin bag and will deliver it to your given address in around 12 business days. We can provide a Warranty Certificate for your new python skin bag.
Each python skin has its own individual unique scale pattern ensuring that every bag produced is one of a kind so, together with your own inspired personalizations, you can be assured that your new prized possession is absolutely the only one of its kind.
Please make contact  if you would like to discuss the customization of your python skin bag. Give us a call today on tel./WhatsApp:+6681-333-6645, email us, or visit one of our Bangkok Bootery stores.