Genuine Snakeskin Card Holder
Exclusively designed in Thailand, Bangkok Bootery offers a range of luxury genuine Snakeskin Card Holder.
All our card holders are made from real python leather giving a luxurious and hard wearing, yet natural finish. Each piece is hand finished by our skilled craftsmen and due to the nature of the leather each piece is unique. All our snakeskin card holder are responsibly and ethically sourced.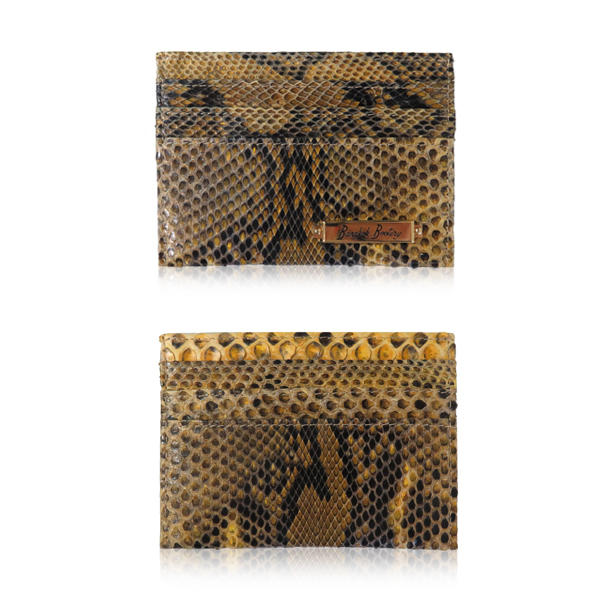 Top-quality snakeskin card holder are made from the type of python skin called Python Reticulatus. The difference between the different styles comes from the various coloring processes the skin undergoes. Some of them are more expensive because the coloring process is very long.
In our opinion, it is essential to buy exotic leather products such as snakeskin card holder from a reputable and respected retailer such as Bangkok Bootery to ensure that they are made from genuine python snake skin.
We have been in the business for over 80 years creating products from excellent quality genuine exotic skins which guarantees that our card holders will last for years and years. We offer a wide choice of styles which are both sophisticated and classic and which guarantee our customers both elegance and practicality. Because of the high quality of materials, their elegant design and their absolute authenticity, our snakeskin card holder will never go out of fashion, but will remain stylish and fashionable as the years go by.
Browse our online exotic skin shop to choose the style, type and color of snakeskin card holder you like most and which best suits you and your personality. Delivery of stock items can be made worldwide within 7 working days.
We can custom make a snakeskin card holder for you according to your particular taste and requirement. So you can create your own personal card holder to suit your personality and make you feel special. If you would prefer a snakeskin card holder custom-made to your own design, contact us at Bangkok Bootery and we will deliver your handcrafted genuine snakeskin card case made-to-order within 14 business days.
Please contact our staff at Bangkok Bootery if you would like more information about buying a genuine snakeskin card case from us. Give us a call today on tel./WhatsApp:+66[0]81-333-6645, email us, drop into one of our Bangkok Bootery stores, or just go to the Bangkok Bootery online shop.
Genuine Snakeskin Card Holder